Who We Are and Who We Strive to Be
BE3 prepares teachers who are committed to co-creating powerful and enriching classrooms that embody the values, relationships, and experiences of a more just world. Such spaces of learning are only possible when teachers build on the strengths and assets of students. These spaces emerge from a commitment, grounded in humility and hope, to construct classrooms, pedagogies, and practices in solidarity with families and communities who have been marginalized. In doing so, we strive to fulfill ongoing struggles for education that are genuinely for the public good and that resist prioritizing market-driven agendas over people. Our work as teachers requires a profound recognition that schooling and education have been avenues for liberation, transformation, and justice as well as oppression, colonization, and dehumanization—an awareness that demands that each moment of teaching is intentionally approached as political, ethical, and moral....
UPCOMING EVENT ON APRIL 26, 2019: "What does it mean for Public Education to be PUBLIC?" Community Event sponsored by BE3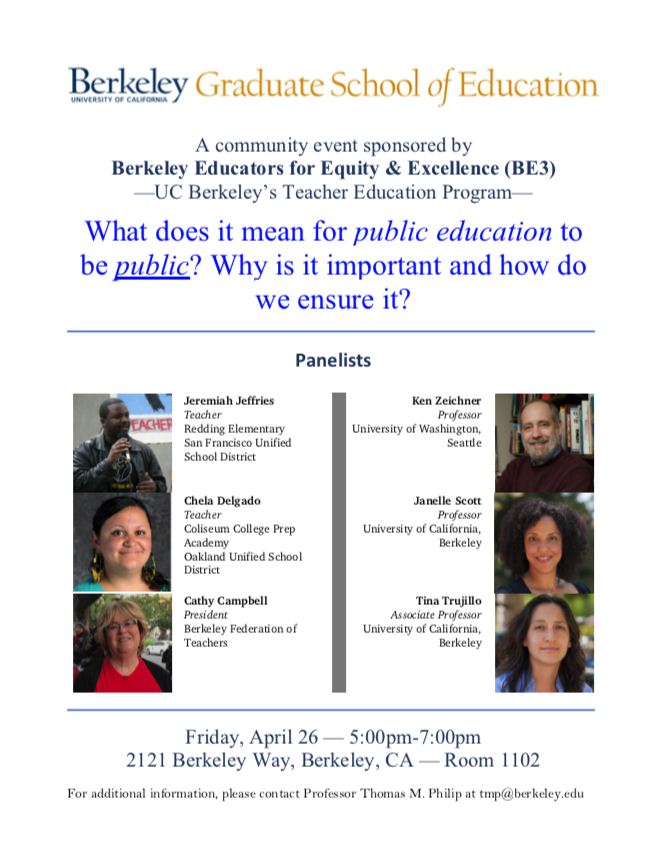 Interested in Applying to BE3?