Nessa Mahmoudi, Berkeley teacher education graduate, fosters equitable, creative, and multilingual spaces for children to thrive

Nessa Mahmoudi weighed her options with the utmost deliberation. She knew it would be a significant amount of time, even more energy, and a considerable amount of money to attend the professional teacher education program at Berkeley's Graduate School of Education. That all-in investment wasn't lost on her.
Mahmoudi also knew she didn't want to rush through a program and become just another warm-body teacher that schools were scrambling to hire amid California's teacher shortage.
"You couldn't put a dollar amount on what I got out of being at Berkeley," says Mahmoudi. "The teachers that I met, the foundations that I got in terms of understanding literacy, understanding math, understanding development of children -- there's no way I could have gotten all of that on the job."
In fact, in Mahmoudi's first classroom teaching position after earning her master's degree in education and a California multiple subject teaching credential, she immediately began using much of the child development and curriculum development that she learned at Berkeley.
"My principal was telling me, 'Don't touch a scripted curriculum, make your own thing.' It was wonderful because I actually had a basis from Berkeley of what that should be," she said.
Mahmoudi has been in the classroom since 2010, developing creative spaces where children's learning can thrive. She had plenty of teaching experience before attending Berkeley, working as an undergraduate in New York's Chinatown with English language learners working to get their GED, and later teaching in rural areas in Mexico and Nicaragua.
What she felt missing in her tool box was a digging deep into equity and social justice in the context of public schools. Discovering that Berkeley offered an immersive experience with student teaching in a variety of school districts, having teacher coaches from a range of backgrounds, and eventually leading her own summer school class, she was sold.
Mahmoudi stays connected to the GSE's Berkeley Educators for Equity and Excellence (BE3) program through leading a bilingual educators group. What began as just a few GSE students looking for help in passing the bilingual authorization test has grown into a larger group that discusses how their own experiences with dual language instruction and multilingual settings, combined with those of their students, are incredibly rich resources for learning.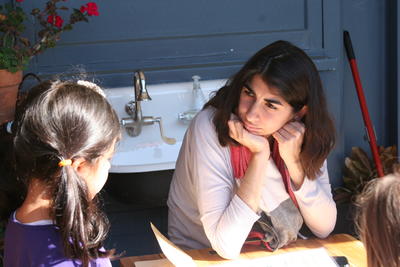 "We spend most of the time talking about the tests, but all of it is set in a larger context of, what do you need to feel confident and capable as a bilingual teacher? And a lot of it is just being a beginning teacher and that you don't feel confident yet," Mahmoudi said.
Those new teacher jitters are a common theme for many BE3 teachers, but the program is designed with that introduction in mind, building confidence with extensive classroom experience as a student teacher. By the end of the program, Mahmoudi was not only confident, she was also patient in finding the right school fit for her. At one school where she was offered a job, the administrators were taken aback when she didn't jump at their offer.
"I didn't want to just accept because I need the money and I need a job immediately. Berkeley helped me understand my value as a teacher, and reminded me to be guided by my values," she said. "Yes, you do have value as a teacher."
MORE STORIES OF BE3'S IMPACT TO COME...