If there were ever a metaphor for Professor P. David Pearson's career, one could look at the line up of cars that he's owned: from his first car, a 1935 Model A Roadster, to his current 2013 red Prius V hybrid.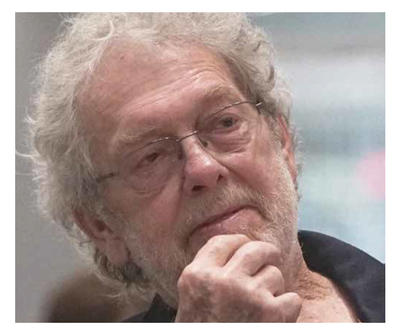 He's had convertibles, clunkers, a 4x4 pickup, and loyal Honda Accords. He's worked at Macy's, taught bilingual education on an emergency teaching credential, has held two Deanships (Berkeley's GSE, and University of Illinois's College of Education), and has a literary award named in his honor.
Along the way, through his various jobs, research, and cars, Pearson has been the consummate life-long learner.
"I was a conflicted student in high school. I couldn't decide whether I was an egg-head, a jock, or a greaser," said Pearson, who grew up in California's Central Valley and attended Berkeley as an undergraduate studying history.
"What Berkeley did for me is it freed me up to be both a person of the world in the sense that I can relate to the working class, rural folks, but I could also spend some time pushing my brain as hard as I could, and I really like that about Berkeley.
"What was a stigma for me in high school was a virtue at Berkeley in terms of trying to bridge those different worlds. And so I just fell in love with the place. It's what we always say the promise of Berkeley is, and that is it changed my life. It provided me with opportunities to excel."
Pearson retired this year, having spent 48 years in academia as a literacy scholar, including the last 19 years at Berkeley.
"I always like to think that I work with one foot firmly planted in the academy and the other foot firmly planted in schools," he said.
"Some people believe in change by confrontation and others believe in change by infiltration. And I think my own view is it's both ends towards the middle. So I try to write articles that I think will force policy makers and publishers to change; and I also try to work with them to en- courage them to change."
For his research and policy efforts, Pearson, who held the Evelyn Lois Corey Chair in Instructional Science at the GSE, has throughout his career been recognized by the International Reading Association (IRA); the National Council of Teachers of English (NCTE); and the National Reading Conference (NRC). In 2003, he was elected to the National Academy of Education (NAEd), and in 2009 to the American Educational Research Association (AERA). In 2012, the Literacy Research Association (formerly the NRC) established the P. David Pearson Scholarly Influence Award to honor scholarship that impacts literacy practice.
His approaches to literacy research and policy stem from his early experience as a 5th grade teacher in Porterville, Calif., working on an emergency credential with no training (driving a 1954 Buick Special Sedan). Most of his students were bilingual Spanish speakers.
"When we make too much of a fetish out of literacy as an end unto itself, we do kids and teachers a disservice," he said. "I prefer to think of reading, writing, and language as tools that help you acquire knowledge and conduct inquiries in other subjects like science, history, literature, mathematics; and would allow you to pursue whatever dreams professionally and personally you want to pursue."
He attended graduate school to study reading education at the University of Minnesota (1966 Comet station wagon, and 1967 Mustang, hard top) with the intention of becoming a remedial education teacher.

"I fell in love with the university, and I fell in love with research, and I fell in love with theory," Pearson said. While he didn't return to an elementary school as class- room teacher, he has remained dedicated to improving literacy for young children.
Pearson was previously Dean of the College of Education at the University of Illinois (1989-1995; Toyota 4x4), and spent some time at Michigan State as a John A. Hannah Distinguished Professor, and co-director of the Center for the Improvement of Early Reading Achievement (CIERA; Honda Accord) before being appointed Dean of Berkeley's GSE in 2001 (more Honda Accords).
While serving as the Berkeley GSE's Dean, Pearson helped recruit and retain faculty who were both rising in their fields and ethnically diverse.
"I like to think I was a Dean who did his level best to promote the interests and careers of the faculty, in terms of making sure that they had the resources that they needed to successfully traverse the journey from assistant to associate to full professor," he said.
Pearson stepped down as Dean after his wife Mary Alyce, whom he met on a blind date in 1959 while they were both under- graduates at Berkeley, became ill with Alzheimer's disease. Upon returning to being a full-time professor, Pearson was able to re-engage as a scholar, advise more students, and reflect on the evolution of literacy.
"Text is no longer just words on a printed page," he said, noting that digital literacy including static and dynamic images em- bedded in text on a screen, have brought about different ways of conveying and representing meaning.
"All of these represent both new opportunities for composing text, and also new opportunities and new affordances, and new constraints, about understanding literacy," he said (red 2013 Prius V hybrid).