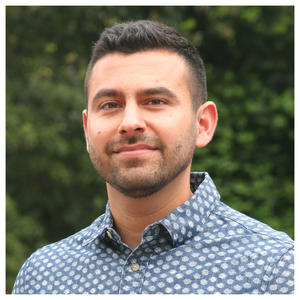 Earning a degree from Berkeley certainly carries with it some cachet. Add to that being a Latino male, and there's even more. GSE doctoral student Michael Singh didn't realize just how much until he began working in an after- school program following the completion of his undergraduate studies.
"I was a young, Latino man from the community who went away to college, and not just any college but to a 'good college' like Berkeley. And people were so excited to have me," Singh said. "On one hand, it was great but on the other, it almost seemed like there was this unreal imagination already awaiting my arrival as to what I would do for boys, particularly the struggling Latino boys in my community."
As a Berkeley undergraduate alumnus, Singh worried that teachers, school administrators, parents, and students, too, at the after-school program in Yolo County had expectations of the impact he could have as an individual even though he saw the problems as more structural in nature.
"I was just one person," Singh said. "And people thought I would completely turn grades around, turn behavior around, and really change graduation rates, as
if individual attitudes were the primary forces influencing the marginalization of Latino boys"
"But that actually redirects our view of what the problem is – structural racism, poverty, hyper-policing, biases in schools. I think these are things that I couldn't necessarily fix and I thought those were the big problems facing the boys, not just for the lack of a role model to tell them 'pull your pants up and don't talk back to a teacher.'"
It's from this experience that Singh frames his dissertation, Becoming Neoliberal Subjects: Power and Resistance in a Mentorship Program for Middle and High School Latino Boys, which has garnered the attention of one of the most prestigious educational fellowships, the National Academy of Education/Spencer Dissertation Fellowship (NAEd/Spencer).
He is one of two GSE doctoral students to be awarded the competitive fellowship this year. Virginia J. Flood was also named a 2018 NAEd/Spencer fellow. They will each receive a $27,500 fellowship and travel twice to Washington, D.C., over the course of the academic year for professional development workshops with senior fellows and 33 other 2018 recipients.
The fellowships support "individuals whose dissertations show potential for bringing fresh and constructive perspectives to the history, theory, analysis, or practice of formal or informal education anywhere in the world," according to NAEd/Spencer.
Singh is cognizant of how his personal experience, gender, and ethnicity are part of the very conversation and construct that he is exploring in his doctoral research.
"What I hope my work can be is something that I wish I could have read while I was working with boys: something that would have made me think more critically about my positionality working with them; to think about things that are outside of my control; the larger political economy of schooling and the logics that made me a much too simple 'solution'," he said. "And sometimes as an educator, you're unable to even touch that."
In his ethnographic study of a Latino male mentorship program that is in 10 different schools in an urban school district, Singh is also paying attention to how philanthropic funding influences the goals of the program.
"What are they willing to fund and how does it influence the kind of identities that boys are able to embody? What is this idealized Latino masculinity that they're trying to cultivate?" he said.
While his research is asking a myriad of questions, Singh makes it clear that he's coming from a place of inquiry, not necessarily just criticism of mentorship programs.
"I think, like all graduate students, there's an academic conversation we want to enter," he said. "I have criticisms of the way we frame the issues of boys and young men of color but I also very much want to be a part of how to shift it."