By Ilene Lelchuk
Contributing Writer
Chunyan Yang is so passional about the power of public education and the importance of school psychology that sometimes she tears up when discussing her career path. "Public education can bring unimaginable growth and opportunity. I couldn't imagine that without public education, I would have gotten to this point," Yang, who grew up in rural China, said as the words caught in her throat. "Schooling is a public good, a core value."
Yang has devoted her career to deep thinking and research about how school climate affects students' and teachers' sense of wellbeing and engagement in the face of bullying, stress, and other factors.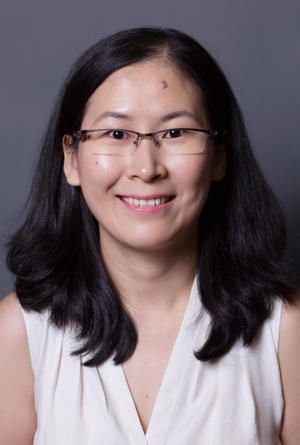 This fall, she brings her expertise to UC Berkeley as she joins the GSE faculty as an assistant professor. Yang will lead a doctorate-level family socialization course this fall and serve as advisor to student researchers studying risk and resilience in children and adolescents across cultures.
It's an exciting time to study school psychology, when psychologists' roles on school campuses are expanding, Yang said. 
It also is a challenging time, when bullying is entrenched as the most common type of school violence. Cyberbullying is on the rise and impacts children at younger ages. "When schools are addressing bullying, the focus is often on reducing bullying incidents, which is important. It is also very important to help heal the students who are suffering from bullying. However, by far we have very limited knowledge and practical strategies to help alleviate victims' suffering, boost their resilience, and help them bounce back. This is an area I have been focusing on," Yang said.
Yang comes to Berkeley from UC Santa Barbara, where she served as assistant professor in school psychology at The Gevirtz Graduate School of Education.
Yang mentored a dynamic group of graduate and undergraduate students in the Risk, Resilience, and Culture Research Group at UCSB and oversaw several projects. In one ongoing project, Yang is collaborating with a local non-profit community agency to help Santa Maria high schools develop and implement a multi-tier bullying prevention and intervention program and to explore factors impacting student and teacher resilience in the face of bullying, burnout, and mental health problems.
Yang plans to continue this work in the Bay Area. She also brings with her a grant funded by the Society for the Study of School Psychology to track newly minted teachers during their first year and assess their feelings of wellbeing while looking for clues into what is causing California's persistent teacher shortage.
It ties into her work developing a Multidimensional Teacher Victimization Scale to measure teachers' perceptions about how often they experience violent behavior from students. "I often approach my research questions from the perspectives across students, teachers, and parents," said Yang. "If teachers are feeling unhappy and unsafe, the students and their parents are not going to feel safe." Among her many published articles, the report titled "Bullying Victimization and Student Engagement in Elementary, Middle, and High Schools: Moderating Role of School Climate," was one of the top 10 most downloaded articles out of more than 4,000 articles published in American Psychological Association journals in 2018.
This study, which drew on assessments from 25,896 students at 114 Delaware schools, found that kids on campuses with less bullying and more positive atmospheres are more engaged with schoolwork and school community. The article also reported a seemingly counterintuitive finding: Creating a positive school climate doesn't go far enough to help those kids who already suffered bullying. "Although positive change on school climate could help reduce bullying, it could bring potential side-effects for victims. When victims see the school is perceived positively by the majority of other students, they might be more likely to blame themselves for being the only ones targeted, which could lead to higher distress and other maladjustment outcomes," Yang explained.
"We need to pay particular attention to remaining victims who are easy to be overlooked in the context of positive change. It is also important to facilitate victims' disclosure about their ongoing experience in safe and confidential ways, to help them form a more objective perception of the school climate, and to encourage support from former victims to students who are still suffering."
Moving forward, Yang is excited to explore the Bay Area's diverse communities and immigrant experiences related to bullying and school culture. Coming to the East Bay is a sort of homecoming for Yang, who completed her advanced school psychology practicum at Albany Middle School. That's where her interest in bullying and school climate began.
Long before then, however, Yang had witnessed victimization and understood the importance of resilience. 
Yang grew up in a diverse rural province in southwest China, where the population consisted of ethnic Chinese like her family, and minorities from Myanmar, Vietnam, and Indonesia. The government relocated many to communal farms in Yang's region. Growing up on one of these farms, she witnessed the unique social-cultural dynamics in her community and learned about how people from marginalized groups overcame the trauma of forced emigration.
Yang credits her father for pushing her to become fluent in English so she would have better opportunities to pursue education in a larger world. After earning her BS in chemistry with a teacher credential from Central China Normal University, she headed to the University of Bristol in England for a masters in psychology research methods, and then to the University of Delaware for a doctorate in school psychology.
"My hope is that through instruction and research, I could encourage and help more students from underrepresented groups to become researchers and practitioners in the field of school psychology, as part of a larger effort to reduce the educational and mental health disparities in schools in California, the U.S., and around the world." she said. "In the field of school psychology, you have so many opportunities to work with youths and families from diverse backgrounds, to make connections with underserved populations, to learn their different cultural values and perspectives, and to help them find their resilience in the face of adversity," Yang said."You can make a real change. That's why I love it."