Imagine a school with a speedy elevator, another with a smooth-riding escalator, and another with broken stairwell.  At each school, students are all tasked with reaching the top floor.
Dean Prudence L. Carter used this imagery as a metaphor for the persistent opportunity gaps in American schooling today that impact students' academic success. Schools with large populations of low-income and ethnic minority students have the proverbial broken stairwells, Carter said as she gave the 16th Annual AERA Brown Lecture, "'A Shade Less Offensive': School Integration as Radical Inclusion in the Pursuit of Educational Equity."
"There's a need for us to have a multidimensional understanding of inequality in order to solve its attendant social and economic problems," Carter said.
Throughout her talk, she examined why societies marred by social and economic divides continue to struggle with the realization of integration in schools and communities. She highlighted policies and evidence-based practices that have the potential to bring about equity in schools and society.
Read the full recap of her lecture, provided by the American Educational Research Association (AERA), or watch the webcast by clicking on the image below.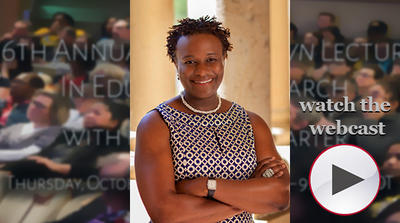 Carter's talk on Oct. 24 in Washington, D.C., was followed with a discussion moderated by Lauren Camera, a senior education writer with U.S. News & World Report; and two commentators, Ary Amerikaner, Vice President for P-12 Policy, Practice, and Research, The Education Trust, and Wade J. Henderson, Former President and CEO, Leadership Conference on Civil and Human Rights (Retired).
The first Brown Lecture was in 2004 to commemorate the 50th anniversary of Brown v. Board of Education, the 1954 U.S. Supreme Court decision that took scientific research into account in issuing its landmark ruling on school segregation. The lecture serves as an annual reminder of the role that social scientific research plays in the advancement of equality and equity in education and American society.