By Erin Chan Ding
Contributing Writer
As a restorative justice program coordinator at her alma mater Berkeley High School, Mahasan Offutt-Chaney started wondering about how her everyday work intersected with educational policy.
She began asking, "How are some students in particular, like black students, over-policed and penalized and suspended in school? How are schools practicing punitive practices?"
This led to questioning how educational practices are influenced by larger social policies and such thoughts as, "How do we fix schools for low-income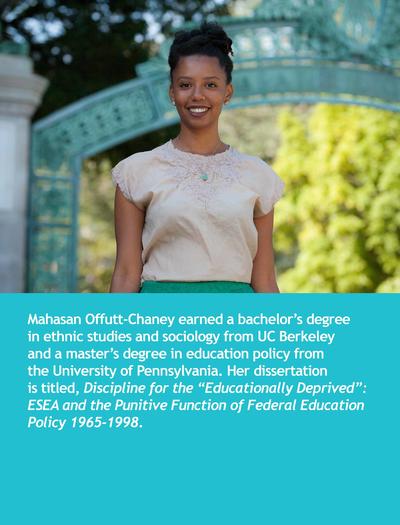 students if we don't have a more robust social policy structures? How do we think about the political economy of education in order to influence policy?"
Says Offutt-Chaney: "We think about schools as implementing these punitive discipline practices, and we don't really think about the larger policies that sanction some of those behaviors and practices."
Offutt-Chaney has spent seven years diving into the intersection of punitive practices such as police officers on campus and rates of suspension, and of federal educational and social policy –
while studying how these policies affect poor populations in the context of race – for her dissertation at UC Berkeley.
When the GSE doctoral candidate found out this spring she's the recipient of a 2019 National Academy of Education Spencer Dissertation Fellowship (NAEd/Spencer; which comes with a $27,500 stipend), Offutt-Chaney made plans to do additional archival research before finishing her thesis next year.
Her research delves into the implications of the three eras when there were significant shifts in federal educational policy: 1965-1969; 1980-1989; and 1993-1998.
Because her work focuses on social policy and federal education programs in those eras, Offutt-Chaney has visited a trio of presidential libraries: the LBJ Presidential Library in Austin, Texas; the Ronald Reagan Library in Simi Valley, Calif.; and the William J. Clinton Presidential Library & Museum in Little Rock, Ark. She's also done research at the National Archives in Washington, D.C., and the Richard W. Riley Collection at the University of South Carolina. (Riley served as the U.S. Secretary of Education from 1993 to 2001.)
In the mid-1960s, due in part to the U.S. Supreme Court's landmark decision, Brown v. Board of Education, the federal government began enacting the anti-poverty education program, Title I of the Elementary and Secondary Education Act in 1965.
Offutt-Chaney's research is set against the backdrop of the common historical narrative framing 1960s federal education policy making; and by the 1980s, buoyed by the Nation at Risk report, educational discourse shifted to outcomes and standards tied to federal money.
"My research intervenes into this history and looks at how federal policy makers also made school discipline and unruly behavior a central focus of the `Nation at Risk,'" she said.
"In the 1990s, we start to see more of what was happening in the '80s become crystallized under the Clinton administration, particularly as safe and disciplined schools became one of the goals of new federal reforms," she said, noting that those efforts, combined with funding cuts to education and higher expectations for people in poverty, would become the driver for the No Child Left Behind Act of 2001.
"What some policymakers might term `educational opportunity programs' have a discipline component that ultimately – like other anti-poverty programs – work to punish the poor," she said.
Offutt-Chaney plans on beginning postdoctoral work at the Center for the Study of Race and Ethnicity in America at Brown University in Providence, R.I. She'll teach there and envisions a book stemming from her dissertation research.
"It's fun work to do academic stuff, in the sense that you can set your own schedule, you get to research things you're interested in," she says. "I'd like to do this for as long as I can."