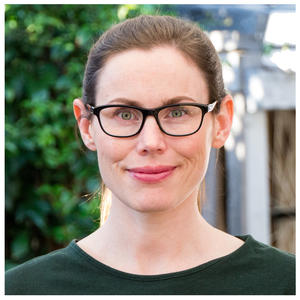 Words matter. So do gestures. And when the two of them are combined, it can make a world of difference in the classroom.
It's the impact of those finer details of communication and interactions in STEM settings that GSE doctoral candidate Virginia J. Flood is exploring in her dissertation, Learning How to Debug: Productive (and not so Productive) Interactions in the Classroom.
"For example, something as simple and subtle as how a teacher asks a question can either create a productive opportunity for a student to start to formulate a scientific argument or it could constrain that opportunity by merely seeking a confirmation for an already established argument," Flood said.
"Over time, students who have been afforded lots of opportunities to formulate an argument vs. confirm one, have gotten a lot more practice in an important aspect of doing science."
Flood's research has garnered the attention of one of the most prestigious educational fellowships, the National Academy of Education/Spencer Dissertation Fellowship (NAEd/Spencer).
She is one of two GSE doctoral candidates to be awarded the competitive fellowship. Michael Singh was also named a 2018 NAEd/Spencer fellow. They will each receive a $27,500 fellowship and travel twice to Washington, D.C., over the course of the academic year for professional development workshops with senior fellows and 33 other 2018 recipients.
The fellowships support "individuals whose dissertations show potential for bringing fresh and constructive perspectives to the history, theory, analysis, or practice of formal or informal education anywhere in the world," according to NAEd/Spencer.
With the rapid incorporation of computer programming courses in K-12 education, Flood is examining how interactions between the teacher and student, as well as peer-to-peer, are impacting the learning.
She has spent time recording video of project-based programming courses in a nonprofit, urban, community learning center for underserved middle and high school students. The classroom interactions have been illuminating.
"When you start examining in fine detail how people communicate, there are always exciting and new, unexpected mechanisms to discover that no one has yet noticed or observed," Flood said. "Although they are often things we do all the time, we're usually completely unaware of them until you go looking for them on purpose."
She has observed that when teachers repeat and reformulate an idea that a student has shared, teachers will sometimes subtly reformulate not only what the student has said, but also how the student has illustrated that idea with a gesture.
In making subtle changes of the gesture, the depiction is better aligned with the disciplinarily accepted version of that idea. Consequently, students pick up on these subtle reformulations in their own subsequent gestures and manner of talking about the topic.
The subtleties of communication have been shown to matter a lot in high stakes settings such as doctor-patient communication and air traffic control work, where how people communicate in the moment can be a matter of life and death. Small, specific interventions in how people are trained to communicate can have profound positive effects on outcomes over time, she noted.
"The same has also been true in classrooms," Flood said. "But it's important that we continue to do a lot more research to characterize how communication is working in the first place in STEM learning settings because there's still a lot left to uncover that could go a long way towards helping us increase student engagement and success in STEM."