University of California- Berkeley Professional Development Providers (UCBPDP) is a coalition of professional learning units located at UC Berkeley that partner directly with K-16 teachers, instructional leaders, and administrators from Bay Area schools and districts. We aim to support lifelong learning for educators throughout their careers, bridging K-16 communities of research and practice. 
Contact: UCB_PD@berkeley.edu
Upcoming Sessions
UCBPDP member organizations are leading regular online learning sessions. View the linked calendar above or daily listings to find out about upcoming opportunities.
Save the date! -- UCB PD Showcase, Monday, September 16 
Be on the lookout for registration and pricing information. If you registered for the March 6 event, you should have received information about transferring your registration.
Previous Sessions
Ask an Expert: Covid19 Informational Session for Educators
Dr. Fenyong Liu, Professor of Public Health, UC Berkeley's School of Public Health shared the latest information about COVID 19, with a particular emphasis on K12 classroom context. (3/16/20)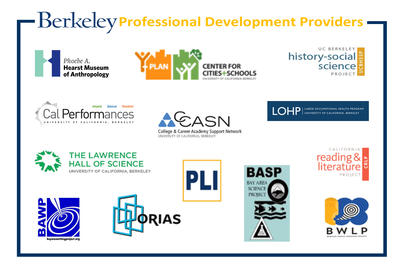 Programs for Teachers
Programs for Students