With growing research showing that performance on the SAT and ACT are impacted by ethnicity and socio-economics, Chancellor Carol T. Christ and other UC leaders say they are ready to end the use of such standardized tests in the college admissions process.
At a day-long forum hosted by the GSE and Policy Analysis for California Education (PACE), education leaders from the State Board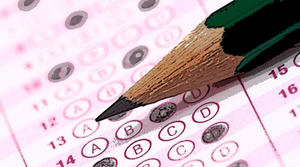 of Education; each of California's institutions of higher education (UC, CSU, and community colleges); K-12 school districts; the College Board; and advocacy organizations gathered to discuss the need for a fresh look at the research on college admissions.
Read the coverage in the Los Angeles Times; The New York Times; Inside Higher Ed; and EdSource. *
Speakers at the Nov. 22 event included:
Michael Brown, Provost and Executive Vice President, University of California
Prudence L. Carter, Dean, UC Berkeley Graduate School of Education
Sally Chen, Economic Justice Program Manager, Chinese for Affirmative Action
Carol T. Christ, Chancellor, UC Berkeley
Eddie Comeaux, Associate Professor of Higher Education, Graduate School of Education, UC Riverside
Lupita Cortez Alcalá, Chief Deputy Superintendent of Public Instruction, California Department of Education
Marcella Cuellar, Assistant Professor, UC Davis School of Education
Linda Darling-Hammond, President, California State Board of Education; President and CEO, Learning Policy Institute
Christopher Edley, Jr., Professor, UC Berkeley Law School
Saul Geiser, Senior Associate, Center for Studies in Higher Education, UC Berkeley
Heather Hough, Executive Director, PACE
Jessica Howell, Vice President of Research, College Board
Michael Kirst, former president, California State Board of Education; Professor Emeritus, Stanford Universit
Nathan Kuncel, Professor of Psychology, University of Minnesota
Michal Kurlaender, Professor of Education Policy, UC Davis School of Education
Nicholas Lemann, Professor, Columbia School of Journalism
Cecilia Rios-Aguilar, Professor of Education, UCLA Graduate School of Education and Information Sciences
Jesse Rothstein, Professor of Public Policy and Economics, UC Berkeley
Joseph Soares, Professor of Sociology, Wake Forest University
Chris Steinhauser, Superintendent, Long Beach Unified School District
Joel Vargas, Vice President, JFF
Mark Wilson, Professor, UC Berkeley Graduate School of Education
Alison Wrynn, Associate Vice Chancellor, Academic Programs, Innovations and Faculty Development, California State University
* Some news outlets may require registration.