The Graduate School of Education (GSE) is partnering with the Kapor Center on two new computer science education initiatives aimed at increasing the number of girls, low-income students and students of color in Advanced Placement STEM and Computer Science courses in public schools.
The GSE will offer computer science courses for master's degree and teacher credential students that allows them to earn a supplementary authorization in computer science; and establish a Computer Science Education project, which will serve as a resource and professional learning community for K-12 educators and school administrators looking to expand and improve computer science offerings in schools and weave computational thinking across the curriculum.
"Computer science education is a content area where we know there are many equity gaps in terms of which students have access to quality content, learning, and potential career opportunities," said Prudence L. Carter, Dean of the Graduate School of Education. "With the Kapor Center's support, we are excited to be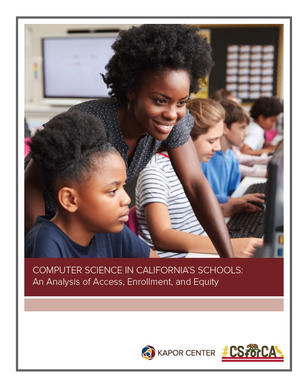 able to take concrete actions toward building a pipeline of teachers, administrators, and counselors to improve access and attainment in not only computer science education but also to career pathways."
The Kapor Center's research illuminates the challenges facing the computer science learning landscape across California's high schools:
Black, Latinx, and Native American/Alaskan Native students comprise 60% of California's high school population but make up only 16% of students who take the Advanced Placement Computer Science A test (n=1,907).
Of the students taking introductory computer science courses, 71% are male, and 29% are female
Schools where at least 91% of students identify as Black, Latinx, or Native America, are nearly two times less likely to offer any computer science course and three times less likely to offer Advanced Placement Computer Science A than schools with a population where a majority of students identify as white.
The state recognized the challenge and in 2016, the California Commission on Teacher Credentialing approved a Supplementary Authorization for credentialed teachers to help increase the number of teachers qualified to teach computer science. Three years later, the State Board of Education adopted a panel's recommendation for expanding access to computer science education (Computer Science Strategic Implementation Plan (CSSIP)).
"We know that tackling the problem isn't just a matter of offering more computer science classes," said Thomas M. Phillip, faculty director of the GSE's teacher preparation program. "It will take a multi-pronged approach that includes centering equity in computer science classrooms; making institutional and policy-level change; and addressing the systemic factors that have led to underrepresentation of girls, and Black, Latinx, and Native American students in the field.
"The GSE is well-situated to take on this challenge as our teacher preparation program, Berkeley Educators for Equity and Excellence (BE3), is grounded in social justice, supporting teachers with the tools and knowledge to co-create powerful and enriching classrooms that embody the values, relationships, and experiences of a more just world."
The inaugural cohort of MA/credential candidates who can also pursue their Supplementary Authorization for computer science will begin in summer 2020.
While the GSE's efforts are funded by the Kapor Center, the broader Rising STEM Scholars Initiative is a $10 million effort funded by Google.org, and includes partnerships with Equal Opportunity Schools; the Kapor Center; Kingmakers of Oakland; and Donorschoose.org.
For more information, contact gsenews@berkeley.edu.