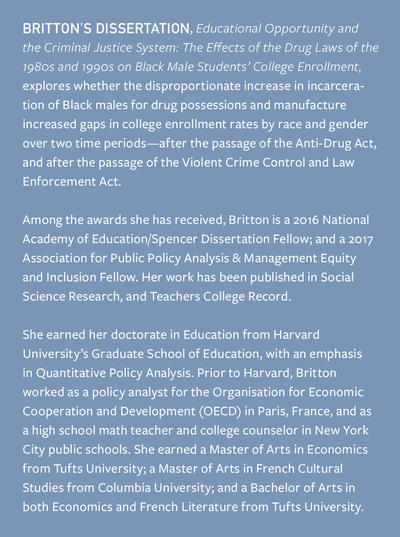 Tolani Britton has studied in New York, Massachusetts, and France. She has traveled extensively, conducting research for the World Bank, and the Organisation for Economic Co- operation and Development (OECD).
Along the way, she spent a year as a visiting scholar at Berkeley. Although brief, the experience left an impression on her. So much so that she's returned as an Assistant Professor.
"My year at Berkeley was a really positive time. One of the great things is that I met students from a number of different schools and programs, the policy school, urban planning, which allowed for a multi-faceted approach to problem-solving," Britton said. "For me, it's really important to have a place and space that is open to data, to results, that don't fit what we expected or the narratives that we have in our head, about the ways in which life and policies work."
Britton's appointment complements the GSE's education policy and educational inequality research, as she uses quasi-experimental methods to explore the impact of policies on students' transition from secondary school to higher education, as well as access and retention in higher education.
"I'm really passionate about secondary and higher education and using quantitative methods to measure if policies work. But also I think it's really critical to do more thoughtful work around understanding not just the effects, but more important- ly, what are the mechanisms that work or don't work to support student success," she said.
Her economic migration research with OECD and work as a high school mathematics teacher and college counselor exposed her to how a student's passage from secondary school and on to a successful higher education experience was varied, particularly for low-income students who were African American or Latino. In fact, she witnessed it playing out in her own family. Her father, an immigrant from Guyana, was a brilliant high school student who didn't receive college counseling at his high school. He eventually attended City College of New York and did well. But, as Britton points out, decades later, her high school students were having the same experience as her father: structural inequities that circumscribed boundaries.
She also points to research she conducted with a colleague examining the impact of individualized learning plans designed to help students be successful in high school by map- ping their coursework and their postsecondary plans. What their research found was that the plans weren't as effective as expected, with respect to ensuring that students were not only more prepared in high school but also for entering and being successful in college.
Taking these experiences and examples to a macro level, Britton has found one constant – context matters.
It is too common for a single policy or program (college counseling, or individualized learning plans) to be expected to work in many places, without taking into account students' needs and different support structures and processes of a region, district or school.
"I think that many times policies are implemented or even tested in one particular place, and because of that, the policy just doesn't transfer as well to even another city in the same state," Britton said. "I think it's important to note that it's not a lack of creativity or people not being thoughtful. It's just simply that context matters so much that I don't know that any policy will work in every context. As researchers, can we think about what are the ways that we can embed the changing nature and necessity of thinking about local context and policies?"
Such exploration of policies, implementation, and structural inequities isn't reserved just for secondary educational institutions, she says.
"I believe the land grant institutions have, and will continue to have, a powerful role in ensuring high quality education for a much broader array and number of students," Britton said, adding that while elite public institutions compete with private universities for students, the public mission must remain at the core.
"We as researchers, we as persons who work in higher education and public institutions, do need to find ways to think creatively about how we increase access and success for a diverse population," she said.