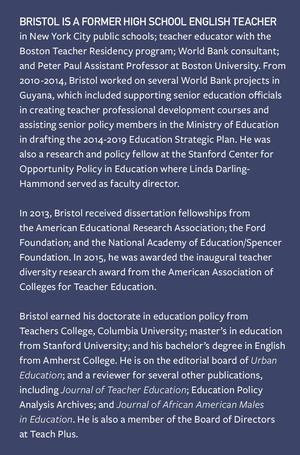 #researchpolicyandpractice. If hashtags could handle text formatting, there'd be an emphasis on the word "and" for Travis J. Bristol.
Recently appointed an Assistant Professor in the GSE, Bristol is adamant about the importance of all three in his work.
"Here at Berkeley, I intend to be thoughtful about building on and using the incredible research that we're known for to improve educational practice and policy," he said.
Bristol already has a solid foundation from which to work. Be- fore coming to Berkeley, he was a Peter Paul Assistant Professor at the Boston University School of Education, where he was the lead researcher of the country's largest teacher diversity initiative in New York City public schools called NYC Men Teach. Bristol's research explored practice and policy levers aimed at recruiting, supporting, and retaining teachers of color.
"To be clear, when I talk about the school-based experience of teachers of color, in the end it's not solely that children of color should have teachers of color," he said. "White teachers can also learn from teachers of color, who have demonstrated their capacity to teach and have the knowledge from going to college or even getting their PhD."
Bristol's current research explores both policy and practice, and is centered on three interrelated issues: (1) district and school- based practices that support teachers of color; (2) national, state, and local education policies that enable and constrain the workplace experiences and retention for teachers of color; and (3) the intersection of race and gender in schools.
His research has evolved from his dissertation, "Men of the Classroom: An Exploration of how the Organizational Conditions, Characteristics, and Dynamics in Schools Affect the Recruitment, Experiences, and Retention of Black Male Teachers." Bristol found that Black male teachers who were the only Black men on their faculty (whom Bristol termed "Loners") were often employed at higher achieving schools; at a school with a white principal; and faced more micro aggressions or racial hostility but stayed because the daily functioning of the school ran smoother.
"These men talked about how they almost expect racism to be present but at least they could do their job," he said.
By comparison, at schools where there were three or more Black male teachers (whom Bristol termed "Groupers") those schools were often lower performing; the Black male teachers had strong relationships with their peers; the conditions in the school didn't allow for a more engaging classroom environment; and those Black male teachers were more likely to leave the school than their peers who were the lone Black male teacher at another school.
"My biggest surprise was this idea that the Loners stayed and Groupers left," Bristol said. "It was sort of unexpected that these lone Black male teachers, despite having these challenges, stayed even in these hostile places."
His early research has led him to examine the situation of teachers of color more broadly: their pre-service education, as well as recruitment efforts by districts; support while in the profession; and professional development for principals to understand how best to attract and retain teachers of color.
He's put his expertise into practice with Boston schools, and NYC Men Teach, which is supported by $16 million from the city to recruit, support, and retain 1,000 male teachers of color. Other NYC Men Teach partners include City University of New York; the Center for Economic Opportunity; and Teach for America.
For Bristol, as the principal investigator for NYC Men Teach, he also brings with him experience as a product of New York City public schools, and a former teacher.
"There was all this talk about recruiting teachers of color, and yet I was also seeing that teachers of color were leaving," he said. "Principals are key to the culture of the school, and the climate. In this diverse society, it's robbery for any child or student to not have been exposed to teachers who reflect the diversity of this country." Bristol isn't alone in his thinking.
"Berkeley is ground zero for scholars who are committed to this work: improving the lives of people who have been historically marginalized," he said. "I am looking forward to working along- side my colleagues to fulfill our university's mission."